Dr Michalis J. Kalaitzakis DMD
Dr Michalis Kalaitzakis is a doctor of medical dentistry who has a postgraduate training in Implantology, Prosthetic Dentistry and Aesthetic Restorative Dentistry. He has spent almost three decades studying the art and science of the Dental specialties next to world renowned instructors within institutes of America and Europe. At the same time he has gained an extensive experience working on thousands of cases on patients that he has treated in his private clinic since 1999. Dr Michalis Kalaitzakis passionately believes that the education and the training of a dental practitioner should be an ongoing process.
Born in Athens in 1970 and family origins from the island of Crete. His father being a commercial navy's Captain Michalis had the chance to travel all around the world during his childhood and adolescence. In this life experience he owes his open mind and his particular way of thinking according to which there are many ways to approach each problem. He adores his work and he draws a great deal of moral satisfaction when he offers his patients relief from pain and quality of life. His greatest reward is the relationships of mutual trust and respect that he creates in his practice with his patients and his colleagues.
After graduating the Dental School of the Semmelweis University of Medicine he was trained in oral surgery in the Department of Oral and Maxillofacial Surgery of Hippocrateion Athens General Hospital where he remained as scientific collaborator for seven years.
Following that he completed a three-year postgraduate programme on P.I.Bränemark´s protocols of Implantology in Greece and Sweden.
In addition he has completed two postgraduate master courses in the University of California Los Angeles USA, on surgical and prosthetic implantology, tissue grafting and aesthetic prosthetic and restorative dentistry. In both these programs he was awarded for his academic achievements amongst his colleagues from Europe and America.
His continuing education includes several other master programmes and special seminars on functional occlusion, clinical implantology, oral surgery and advanced Prosthodontics in Greece and Germany.
Dr Michalis Kalaitzakis is a fundamental member of the International Congress of Oral Implantologists (ICOI) Hellas. He is a member of the Athens Dental Association and a former member of the Stomatological Society of Greece.
Dr kalaitzakis is a speaker in educational seminars in the field of clinical implantology at ICOI, the department of oral and maxillofacial surgery of Hippocrateion A.G.H. and the dental education company OMNIPRESS. He maintains an ongoing participation in the continuing education of Dentists with lectures and presentations in several scientific events.
The management of the medical department of the dental clinic has been operated by Triada Mirkou since 2008.

Due to her work experience as a Dental Assistant since 1993, she can assist the dentist in all dental procedures and take care of the patient's good mood and cooperation for the best treatment.
At the same time, she is responsible for the cleanliness and proper use of the operating rooms. She has a scientific certification of dental assistant from the Athens School of Dentistry and a degree in Secretarial Support.
The coordination and organization of the dental clinic has been undertaken by the managing director Maria Giata.
Since 2009, she has shown responsibility and enthusiasm for her field of work, covering in detail all the needs of the clinic regarding secretarial support, material orders, orders in the dental laboratories and communication with scientific collaborators and patients. She is effective in coordinating as well as confronting imposing problems that require immediate action.
She shows willingness and learns quickly, so she knows the procedures and needs of the dental practice to a large extent.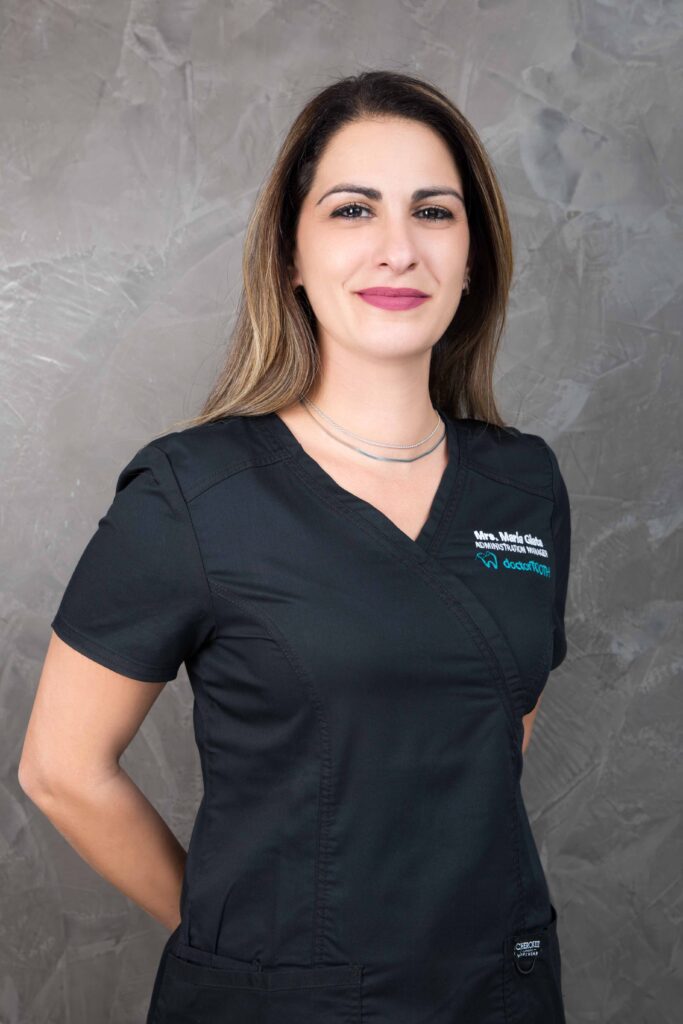 She is a graduate dentist (Plovdiv Dental School of Bulgaria). She speaks English, German and Bulgarian and has offered her services at the Social Clinic of the Diocese of Thessaloniki. She has attended seminars and workshops in
New Developments in Modern Surgery and Non-Surgical Dentistry, 
Realities and Dilemmas in the New Age of Restorative Dentistry, 
Orthodontics and General Dentistry (with a subsection on sleep apnea), 
Application of Hyaluronic Acid by a Dentist at the Dental Clinic, 
Facial Aesthetics in Dentistry with smart blood products and stem cells.
Dentist Sofia Tamatzidou is extremely organizational, communicative, cooperative, pays attention to detail, and is very capable of solving difficult problems.
Η Δρ. Αποστολίδη Ιωάννα αποφοίτησε από την Οδοντιατρική Σχολή του Εθνικού και Καποδιστριακού Πανεπιστημίου Αθηνών το 2006 με τον τίτλο του Χειρουργού Οδοντιάτρου.
Το διάστημα 2006-2007 εργάστηκε στο Οδοντιατρείο Φρουράς Αθηνών του 401 Γ.Σ.Ν.
Το 2007-2008 υπήρξε εξωτερικός επιστημονικός συνεργάτης του Εθνικού και Καποδιστριακού Πανεπιστημίου Αθηνών στην κλινική και στα εργαστήρια του τμήματος της Ενδοδοντίας.
Το 2008-2010 αναχώρησε και ολοκλήρωσε τις μεταπτυχιακές της σπουδές, στην ειδικότητα της Ενδοδοντολογίας, στο Πανεπιστήμιο του Μάντσεστερ, Αγγλίας, από όπου και της απονεμήθηκε ο τίτλος M.Sc. in Endodontics.  Παράλληλα με τις σπουδές της, εργάστηκε και σε ιδιωτικά ιατρεία στο Μάντσεστερ, αποκτώντας επιπλέον εξειδίκευση.
Από το 2010 που επέστρεψε, έως και το 2016 συνεργάστηκε σε ιατρεία στην Αθήνα, εξασκώντας αποκλειστικά την αποκτηθείσα της ειδικότητα, αυτή της Ενδοδοντίας.
Από το 2016 διατηρεί το δικό της Ιατρείο στην Κηφισιά με αποκλειστικό αντικείμενο την Ενδοδοντία (απονευρώσεις).
Είναι μέλος του Οδοντιατρικού Συλλόγου Αθηνών από το 2006 και μέλος του Συλλόγου Ελλήνων Ενδοδοντολόγων.
Γιατί χρειάζομαι ενδοδοντολόγο;
Ο ενδοδοντολόγος έχει την ίδια εκπαίδευση όπως ο χειρουργός οδοντίατρος και επιπλέον έχει τουλάχιστον 2 χρόνια εξειδικευμένης γνώσης και πρακτικής σε ενδοδοντικές θεραπείες (απονευρώσεις).
Η επιπλέον γνώση, εμπειρία και εξοικείωση με ειδικό εξοπλισμό (μικροσκόπιο, ψηφιακή ακτινογραφία, υπέρηχους, εντοπιστής ακρορριζίου, ηλεκτρικός δοκιμαστής ζωτικότητας πολφού κλπ.) βοηθούν στην επιτυχημένη διάγνωση και αντιμετώπιση δύσκολων και πολύπλοκών περιστατικών όπως δόντια με ενασβεστιωμένους ή πολύ στενούς ριζικούς σωλήνες, ασυνήθιστη ανατομία ριζικών σωλήνων, ρωγμών και καταγμάτων δοντιών καθώς επίσης και επαναλήψεις παλαιότερων ενδοδοντικών θεραπειών.